I just read her blog.
I love you mom.


*as tears swell in my eyes*
Friday, August 17, 2007 | Living terms: Family |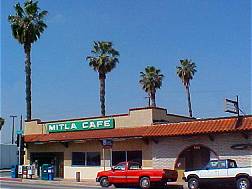 not my photo
Friday is supposed to be date night. So I'm making homemade cookies. These cookies have gone from calorie splurge to comfort food. I was on and off the computer most of the day. Thank goodness that's not all my job entails. I then left a little early and went over to my grandmother's in what many call the "west side"... I call it "Mt. Vernon". My tia was there and wanted to give me some photos to scan of my cousin. She wants me to put together a PowerPoint for her graduation party. She graduated in June from High School and Community College at the same time. The only thing is that the party is in the end of September. So there I am, sitting in my grandmothers little house. The one she was born in. The house my Great Grandmother died in. The house that I played in and explored. It's warm inside. No air conditioning. It's a "poor man's" Victorian. Preserved in history. The windows are open and you can smell the tortillas and Chile Verde coming down wind from the restaurants on Mt.Vernon. My grandfather is at the park two blocks away playing dominoes with the other Mexicano war veterans. As I look through the pictures my tia brought I notice an ultra sound on the fridge. Who could it belong to? One of the cousins? I pretend to pay no mind to it. Then as I'm ready to go my tia says the magic words.... "I need to tell you something". I think to myself, "don't be pregnant". She already has 5 kids ranging from 26 down to 8 years of age. Well since my mom reads my blog I will leave it at that. My tia is going to visit my parents on Sunday to tell them what's going on.
I then came home and I got a phone call. My mom needed me to get my dad drive him to the Kaiser clinic to get her and take her to Kaiser hospital. She has had problems with her intestines and breaking down food. They wanted a CT scan of her right away. So we drop him off, he drives off with mom and we go pick up dinner for my little brother, per mothers orders. Always thinking of others. We waited until 9:30 for the news... mind you her sister just fought off stomach cancer through surgery. The scan revealed that she was 100% cancer/tumor free. She re hurt her sciatic nerve and was a little dehydrated. Thank God. She just has to take it easy and not carry her vacuum cleaner upstairs.
I also called M and M. It's their anniversary. She called and thanked us for remembering. It turns out, us along with her co workers, were the only ones to remember.
So here I am... making cookies, my husband watching Mi Familia and me... thinking about my own family.
Friday, August 17, 2007 | Living terms: Family |